By Cora Buffay
The holiday season is upon us, with Thanksgiving, Christmas, and New Year just around the corner. Have you thought about what kind of gift you have prepared for your parents or grandparents? How about giving some wellness gifts, because the health of the elders is what we can help make possible, and what they most need and desire.
I don't know if you have ever made a wish such as: "I hope my parents are safe and healthy." I remember that I did, and do it every year. So sending them health gifts can also be said to be a kind of blessing. In addition, it's often that our parents and grandparents already seem to have "everything". They don't need some expensive or technologically novel gifts; but what they do need are practical ones that can improve the quality of life. Now, let us see about some good gift options for you:
Upright Walker
Older elders may have a little problem with their legs, and so a sturdy walker can help solve this problem. Walkers include Folding Walkers, Rollator Walkers, and Upright Walkers. They have their own characteristics and can help the elderly walk more safely without falling. Upright walker is a kind of high-end walker in that it can do several things: it can play the role of a walker; can help the elderly carry things; and it can provide a seat to rest when the elderly are tired.
I once bought an upright walker for my grandmother so that she can sit and it it helps her carry things. She likes it very much, and other elderly people in the community admire her (because the walker I bought is good-looking, too). Upright walker hasn't been popular for long, and it's a relatively specialty item. The price is between $100-$300, which is not too expensive when you think about what it can do. It is worth giving to parents, and I highly recommend choosing this.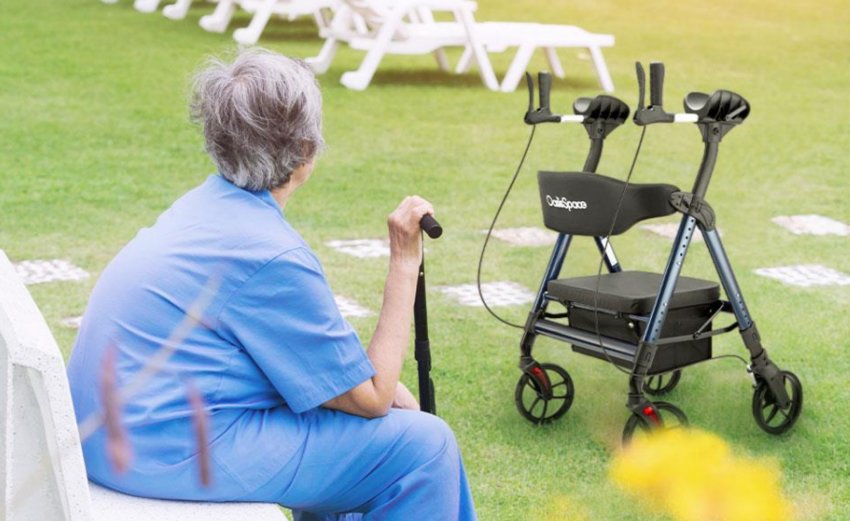 Bathroom Safety Equipment
We all know that the bathroom is a bit slippery and dangerous for the elderly. Therefore, it is necessary to install some bathroom safety equipment. Equipment such as toilet safety rail, a raised toilet seat and grab bar are good options. Although they may seem a little strange at first as gifts to parents\grandparents, they are very practical and can indeed improve the quality of life of the elderly. Which, when you think of it, what better kind of gift is there when it provides such improvement? The price of each of item is not high, so when considering them as a gift, consider combining a few to make it extra special.
Bedroom Safety Equipment
The need for safety in the bedroom is the same as in the bathroom, although the bedroom is typically not slippery. But adding safety equipment to the bedroom will make the elderly feel more safe as well. There are many equipment options here, such as bed rails that can prevent the elderly from falling out of bed to the ground while sleeping. They can also assist them in getting up and walking. There are other options such as alarms that allow the elderly to contact their family members at any time when they are in danger. You can choose what safety equipment is best according to the needs of your loved one. It is worth noting that the prices of these are also not high, and here to, you can also combine items to make the perfect gift.
If you're not sure what to give to your elderly parents or grandparents, consider my holiday gift suggestions above. While they may not seem like "traditional" gifts, I can assure you they will be thankful for your consideration of their quality of life. And, if it's a birthday or anniversary coming up, these make thoughtful gifts for those times, too. Enjoy surprising your family and friends with these gifts, and making their life safer and easier!