By Reggie Connell, Managing Editor
Dr. Wade Foster, the owner of Eloise Holdings LLC and the proposed buyer of the 51-acre Kelly Park Road property, also called the gopher tortoise conservation area, confirmed to The Apopka Voice that the contract between Eloise Holdings LLC and the Rock Springs Ridge Homeowners Association has expired, and he has no intention of making an offer on the property.
In a brief 60-second phone interview with The Apopka Voice, Foster confirmed he received the counter-offer by the RSR HOA but did not pay a deposit, nor sign the document sent by the HOA.
"The contract has expired, and the deal is dead," Foster said.
Foster confirmed he was aware of the conservation easement on the property from the Florida Fish and Wildlife Conservation Commission, but did not disclose if he or the HOA were going to satisfy the conditions to lift the easement before potentially closing on the property.
Foster also did not disclose the purpose of his interest in purchasing the land.
"That's confidential," he said.
According to a document mailed by the Rock Springs Ridge Homeowners Association to the homeowners of RSR dated August 17th, 2021, along with a ballot giving permission for the HOA to sell the property, the following details were provided about the proposed counter-offer from the HOA to Eloise Holdings (Foster):
Proposed Price: $5,500,000

Deposit: $250,000 ($25,000 non-refundable)

Financing: $500,000 (3-year at 3% APR, Seller first mortgage purchase money)

Cash to Close: $4,750,000

Acceptance Date: 9/17/21

Closing Date: 11/16/21

Counter Offer sent unsigned by the seller to the buyer on 8/18/21
On October 4th, the homeowners of RSR voted 571-123 in favor of giving its HOA permission to sell the 51-acre parcel. Also on that date, on the RSR Homeowners Association website, the following claims were still live:
"The 51-acre outparcel at 624 West Kelly Park Road will be sold for $5.5 million. The 320-acre golf course can then be purchased by the RSR HOA for $2.5 million."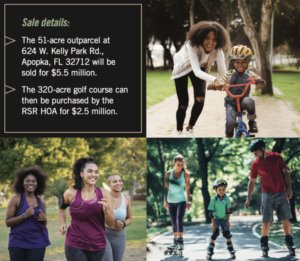 But the Golf Group (owners of the RSR golf course lands) has not accepted a deal to sell the golf course lands for $2.5 million to the HOA, and the City of Apopka has not agreed to sell the Harmon Road parcel to the HOA or to the Golf Group for $2.5 million.
The HOA has since deleted these details and this photo (right) from its website.