The Northwest Wastewater Reclamation facility in Apopka decreased in COVID concentration particles by 78% over September 6 level
From the Orange County Newsroom
COVID-19 by the numbers
As of Sunday, October 10th the Florida Department of Health is reporting that Orange County's 14-day rolling positivity rate is 6.04 percent. Additional County statistics include:
CDC level of community transmission: HIGH

Eligible residents (12+) who have one vaccine dose: 74 percent

Eligible residents (12+) who have completed their vaccination series: 65 percent

Total positive cases for Orange County residents: 229,673

Total deaths in Orange County: 2,090
COVID-19 Wastewater Monitoring
Orange County Government's Utilities Department continues its participation in the National Wastewater Surveillance System. The program monitors wastewater from water reclamation facilities to analyze the concentration and spread of the coronavirus. Below is concentration information from October 7.
The Eastern Water Reclamation Facility (EWRF) decreased to 147,160

South Water Reclamation Facility (SWRF) decreased to 301,016

Northwest Water Reclamation Facility (NWRF) increased slightly to 189,266
All three reclamation facilities decreased dramatically over this time last month.
The Northwest facility decreased by 78% over September 6.

The South Water facility decreased by 47% over September 6.

The Eastern Water facility decreased by 80% over September 6.
The results for two of the three service areas are lower than the previous sample results and continue to show a sustained downward trend in our service areas. Also, these results are starting to resemble the lower concentrations seen in May and June.
The Lambda and Mu variants were not detected in any of the three (3) service areas.
COVID-19 vaccine at Barnett Park
As a reminder, Orange County Health Services has transitioned its free drive-thru COVID-19 vaccination site from Camping World Stadium to Barnett Park. Vaccinations will take place seven days a week at Barnett Park unless otherwise noted. The site will administer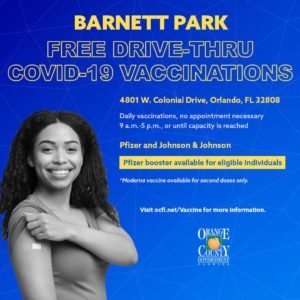 the following vaccines:
Pfizer – first dose, second dose, booster for eligible individuals

Moderna – second dose only

Johnson & Johnson – single dose
For more vaccine information, visit ocfl.net/Vaccines.
COVID-19 testing
Orange County Health Services continues to offer free drive-thru COVID-19 testing at two mass-testing sites across the County — Barnett Park and Econ Soccer Complex.
Testing will take place seven days a week at both sites unless otherwise noted. For additional COVID-19 testing locations, please visit ocfl.net/Testing.
Community Involvement
This month, Orange County residents have several ways to stay involved with their local government. The following events are free and open to all residents to participate:
Redistricting Meeting - Monday, October 11th at 6pm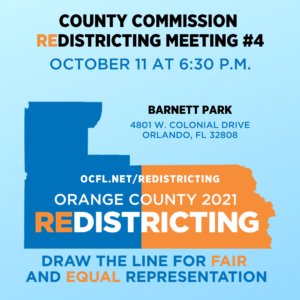 Meetings on Orange County's 2021 Redistricting process are scheduled now until the end of the year. Residents are highly encouraged to participate in readjusting the population between County commission districts to ensure fair and equal representation. To learn more or to find a meeting near you, visit ocfl.net/redistricting.
Virtual Community Conference - Saturday, October 16th at 10am
Orange County's annual Community Conference provides residents an opportunity to learn about innovative ways to improve neighborhoods by connecting residents and community leaders with their local government. To view the conference agenda or to register, visit ocfl.net/CommunityConference.