By Nathaniel Marerro, Interning Correspondent with The Apopka Voice
Apopka High defensive standouts Kaven Call and Nikai Martinez were among a star-studded group of prospects that visited the University of Central Florida for Bounce House Weekend on June 12th.
"It was amazing because I haven't had the opportunity to go on campus," Call said. "So for it to open up again, it was a blessing and I was glad to be able to do it. We did a lot of cool events with the coaches. We bonded with each other and I had a good time."
Call, who's rated as a four-star recruit by Rivals.com, plays defensive end for the Blue Darters and is heading into his junior year. Call was previously offered a scholarship by UCF before their former head coach, Josh Heupel, left to become the head coach at Tennessee on Jan. 27th. On June 7th, he was officially re-offered the scholarship by the new coaching staff at UCF.
Call's connection to UCF
Amongst the new coaching staff at UCF, the defensive line coach, Kenny Martin, is who Call has built the best relationship with.
"Just how we can relate to each other on and off the field," Call said of why Martin is the coach he's closest with at UCF. "He's a cool and fun guy. We can talk about stuff we do because we play similar positions on the d-line. I can ask him which move works and which don't and he can correct me."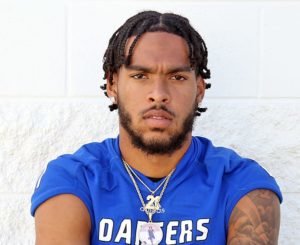 Nikai Martinez
Martinez, who plays cornerback at Apopka, is heading into his senior year. Martinez is also rated as a four-star on the Rivals site. Amongst the plethora of schools that have offered Martinez, UCF has positioned itself well to potentially add one of the best corners in Central Florida.
"They're up there with the other schools," Martinez said. "They've earned a spot in the top three. I feel like I'll probably make a decision between July and early September," Martinez said on when he plans to choose which school he's going to play for.
A shift in strategy for the Knights
The visit to UCF for Call and Martinez indicates a shift in the Knights' recruiting strategy that focuses more on recruiting players in the Central Florida area with the arrival of Gus Malzahn. Malzahn was hired by UCF on Feb. 15th after Heupel left to become the head coach at Tennessee. Malzahn was previously the head coach at the University of Auburn from 2013-2020 before being fired on Dec. 13th.
With the new coaching staff in place, Call said that their aspirations to make UCF one of the best programs in the nation stood out to him.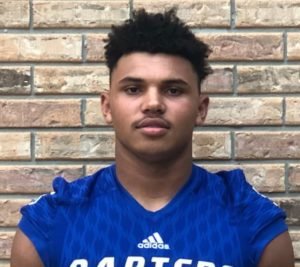 Kaven Call
"The determination of the coaching staff," Call said of what stood out to him the most on his visit. Coach Gus is the head coach and they really want to grow the program and win a national championship. They want to turn this around and make it the best program in the country."
Martinez's relationship with Coach Malzahn dates back to when he was a freshman and was offered a scholarship while Malzahn was the head coach at Auburn. Not long after Malzahn became the new head coach at UCF, one of the first calls he made was to Martinez.
"When he was hired at UCF, he called me that day," Martinez said. "Knowing how busy he was, that meant a lot to me knowing I was a priority."
The new coaching staff isn't the only major change that's making UCF a more attractive destination for recruits. A change to the College Football Playoff format would put the Knights squarely in the mix for a shot to compete for a national championship on a year-to-year basis. The change would expand the playoff from four teams to 12, which would consist of the six highest-ranked conference champions, then the CFP committee would determine the next six teams that make the playoff. Had this format existed in previous years, UCF would have made the playoff in 2017 and 2018 after back-to-back undefeated regular seasons.
"Absolutely," Call said on if the changed playoff format makes UCF a more attractive destination. "They were talking about it when I was there...They would have made the playoff (in 2017 and 2018) and had a good run. The circumstances definitely help the program."
The Blue Darters in 2021
Call and Martinez are both set to lead what's expected to be another stout defense at Apopka. In 2020, the Blue Darters went 8-4 and lost in the state semifinal 28-24 to the eventual 8A state champion Sanford Seminole Seminoles. In 2019, Apopka made it to the 8A state championship game but lost 21-20 to the Columbus Explorers. Back-to-back years of nearly winning it all have added extra motivation for Call and Martinez to help bring home another state title to Apopka High School.
"It motivates me a lot this season because we as a team have to finish the job and we hate coming up short every year," Call said. "So we are hungry and determined to bring it home this year."
"I think it's very motivating know how close we are," Martinez stated. "We have to fight harder. Having this summer and being able to work out with the team is big because that's what Apopka is about."