Faith & Inspiration
By Charles Towne
There are some, "No Trespassing signs" that are, if nothing more, hilarious! As a case in point here are a few that have especially tickled my funny bone over the years.
To set the scene there are those common, even mundane signs that lack the power to really get our attention, such as; "Posted, keep out!" And then, "NO TRESPASSING!" Somehow lacks enough pop and sizzle to make me want to give it a second glance.
And there was this sign that I found especially clever, "THIS PROPERTY IS PATROLLED BY AN INSANE BULL, TRESPASS AT YOUR OWN RISK!
Yes, and now I think you are beginning to get the idea. If you are going to post your land, do it in such a way that will at least make me laugh as I am being folded, spindled, stapled, and mutilated!
Many years ago, fifty or more; we had a small breeding facility in central Michigan for the large cats, as in; lions and tigers and leopards. I placed some unique no trespassing signs on the perimeter of the property that graphically portrayed a leaping lion. The lion's mouth was agape, teeth prominently displayed, with the warning, "NO TRESPASSING, VIOLATORS WILL BE EATEN!"
I sold a lot of those signs to our visitors.
Another sign I especially liked for its clever message was one on a lake in Northern Michigan. Whoever thought this one up had an incredible, if a tad sick, sense of humor. The sign showed a gigantic bass the size of the shark in the movie "JAWS!" With the declaration as follows,
"NO FISHING ON THIS LAKE! VIOLATORS WILL BE USED AS BAIT!"
And then there was this one, "NO TRESPASSING! THIS PROPERTY PATROLLED BY VICIOUS, RABID, MAN-EATING SNAKES!"
You are probably wondering where I am going with this so I will tell you. Anna, a member of a prayer group that I am blessed to be involved with told me recently that she visited a gated community, and when she typed in the code to gain access, she noticed the message that followed, it was simply; "ACCESS GRANTED!"
When I examine those two words I can't help but think of heaven! Papa God is so anxious to welcome us home, there are no signs forbidding us entrance, instead, "ACCESS GRANTED!" prominently declares the Father's loving character to each of His kids.
Praise God!
Dear Papa God, thanks so much for loving us with such an overwhelming, incredible love! Help each of us to know you as our forever friend! In Jesus wonderful, loving name we declare it, Amen.
---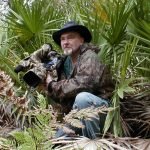 Charles Towne is first and foremost a Christian. An octogenarian, author, journalist, wildlife photographer, naturalist, caregiver, and survivor, his life has been and continues to be, a never-ending adventure filled with possibilities never imagined. He has adopted the philosophy that to Live fully, laugh uproariously, love passionately, and learn like there is no tomorrow, is a formula for a long and joy-filled life.