Editor's Note: Chuck Carnesale, the former Apopka Fire Chief from 2016-2019, sent The Apopka Voice a letter to the editor clarifying his opinion on the two-person squad trucks used by the AFD during his tenure as Chief.
Opinion
By Chuck Carnesale, Former Apopka Fire Chief
I would like to take this opportunity to write to you to clarify a statement made a few weeks ago at a city budget meeting where a discussion was being held about adding an additional firefighter to each Apopka fire engine. The Apopka Voice's subsequent story and survey and follow-up articles on the same subject have been very informative with a lot of apparent hard work put into it. It showed a good comparison of how other local and neighboring fire departments staff their apparatus vs. Apopka. I commend The Apopka Voice for the research and stories.
This letter is not meant to degrade or disparage any individual or organization but to only clarify what was brought up and the use of my name in that budget meeting. I honestly believe the city administration and council may not have known what was in place when I was fire chief and in fact, I don't believe their comments or statements were meant as derogatory towards myself or other past fire chiefs.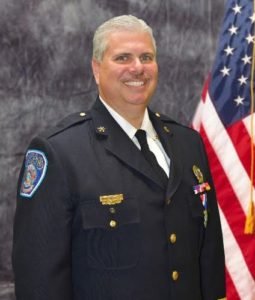 Former Apopka Fire Chief Chuck Carnesale
The statement and question asked were this:
"We got our ISO-1 rating 17 years ago, and we ran the same program," so under Chiefs Anderson, Bronson, Carnesale, and Wylam, we've always had a two-man squad and a two-man fire truck. So now, all of a sudden, 17 years later, now it's important we go to three. What changed?"
Again, since my name was mentioned, I'd like to attempt to answer this question and correct an inaccuracy made in the statement.
The short answer is A LOT has changed! Let me explain.
I was appointed Fire Chief in June 2016 and just one month later I stood in front of the city council to request funding for fire station 5 and additional firefighters (the press, including The Apopka Voice, was present). I told the city council that Apopka wasn't the sleepy little town it once was. The population was soaring, the department was responding to more serious high-speed vehicle accidents on the new toll roads, daily EMS ambulance calls were increasing and the types of potential fires in residential, commercial, and industrial buildings are much higher than in the past with many warehouses and apartment buildings being larger than Apopka has ever seen.
Two in-Two out
I expressed concerns we were not meeting certain National Fire Protection Association (NFPA) standards as it relates to apparatus staffing levels. I quoted NFPA standard 1710 (Standard for the Organization and Deployment of Fire Suppression Operations) which today recommends that each fire engine company be staffed with four firefighters, including a company officer. I used terminology such as two in/two-out, which requires when there are firefighters inside a building fighting a fire, there be two firefighters on standby outside to make a rescue of an injured or trapped firefighter inside the structure.
I showed dramatic videos of real-life incidents in other jurisdictions that could have turned deadly without the proper staffing levels. I played a 911 recording of a family trapped in an apartment bathroom as the apartment burned around them. Luckily that family was rescued by the first arriving fire apparatus staffed by four firefighters.
The purpose of this presentation was to show the city council that we must get ready for the continued growth of our city as it relates to proper fire station locations, proper equipment, and proper staffing levels.
I really feel the city council at the time understood what I was trying to explain to them. In the end, station 5 was funded along with the proper staffing which brought engine 5 to a three-firefighter unit. The next year fire station 6 was approved with staffing of three firefighters for engine 6. Although not four firefighters, for the first time in the department's history we had three firefighters assigned full-time to two of our six fire engines, we were beginning to increase our staffing levels on fire apparatus and the minimum daily firefighters on duty citywide was now at 34. The plan was to continue bolstering staffing levels over the next few years to eventually have each fire truck and tower truck staffed with three firefighters.
Since my retirement in August of 2019, I'm not quite sure what has happened to what was in place when I was there, but from what I'm hearing, it sounds different.
Two-person squad trucks
I'd like to mention the squad trucks, which continue to be brought up in these discussions. When the idea of the squad truck was first implemented by Chief Anderson in the early 2000s, it was an ingenious and innovative idea to get additional firefighters to scenes as required by ISO and it worked very well for many years and still does, for the most part, today for that purpose. However, the crew assigned to the squad truck cannot substitute for additional firefighters in the first crucial minutes of the first arriving fire engine to a house or building fire where a quick-fire attack or rescue is imminent and must be attempted by a limited crew, and I think that's where the staffing level discussions turn muddy. Firefighter safety is paramount on the fire scene, especially in the first few minutes of an incident where manpower will be limited until additional help arrives.
In the 37 years I was with the Apopka Fire Department, I learned from some of the best individuals in the field such as Chiefs Ustler, Anderson, Bronson and so many other people that came before me. As fire chief, I attempted to expand on their legacy and promoted safety over anything else, which included providing firefighters the latest in protective equipment, apparatus, proper staffing levels, and continuing the fight for firefighter cancer prevention.
Our firefighters must have the mindset that their leaders are doing all they can to keep them safe.
In my goodbye retirement email I sent out to the firefighters two years ago, I told them this:
"I couldn't be more proud of all of you as I am today. In just three short years, we've accomplished so much together as a team and prepared our great city for the next phase of its growth. Most importantly, we've made significant strides and implementations in firefighter safety. Believe me when I say, your safety has and always will be my number one priority."
This sentiment remains true today.