By Ava Niemeyer, Interning Correspondent with The Apopka Voice
The education system in the United States hasn't changed much in the last century. The current form is an Industrial Age creation which was successful... in training factory workers.
But every day the world advances.
There are new ways to think and easier ways of doing everyday tasks. An effective school is one that trains its students for the life ahead of them, and where their chosen career begins.
But how can a school do this successfully while its entire system is based on a century-old curriculum? The answer lies in the recorded statistics of college students.
Studies done by allaboutcareers.com discovered that 52% of the 37,000 undergraduates and college students polled have no idea what career they want to pursue.
Robert Henley has had his own experience with the restraints of the school system.
Henley, the Innovation Coordinator for the Florida Conference Office of Education, and the Director of the Forest Lake Academy (FLA) Innovation Lab in Apopka is taking action to change this way of schooling by providing a way for students to explore their passions and waste no time in pursuing them.
It's simple. If a student wants to do something that is not offered at FLA, the Innovation Lab steps in to give them additional opportunities to the traditional curriculum.
It certainly worked for me.
When joining the Innovation Lab, Henley asked me a few questions about my passion. After having a conversation about my love for journalism and my longing for a student-led school newspaper, Henley created a personalized course for me. We spent time planning the first steps for achieving my goal and went over the coming week's daily checkpoints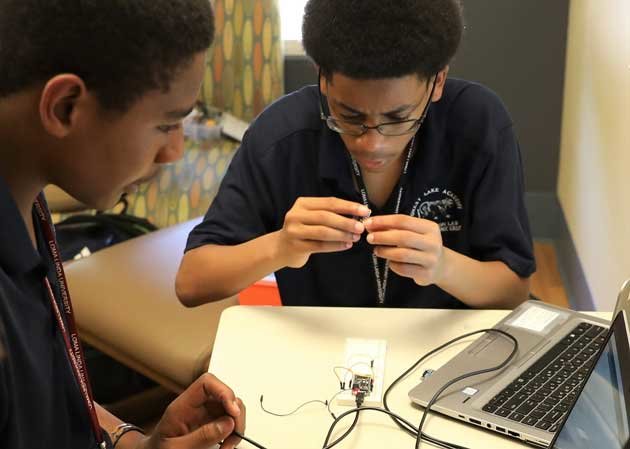 Throughout the process of launching the newspaper, I was able to find guidance from my mentors - Melissa Keller and Alison Pruisa. They helped me connect with other staff members and find other students who shared my passion. My mentors also shared their own experiences with journalism and how to go about it.
During the process, the Innovation Lab allowed me to receive materials, access to a website, and an online course that assisted me with my next steps. That was my experience, but there are no limits to what a student can achieve in the Innovation Lab.
After partnering with the Big Fish Light Company, the Innovation Lab has a group of students developing the second generation of their product. Other students have created a gardening program, seeking to spread the importance of health and self-care. Two students started a soap company, and are using chemistry to study what would make it healthier for people's skin. Many prototypes of small to big devices are created using 3D printers to allow the students to make their products themselves and critique their creations.
Authentic learning environments for students
Henley explains that the goal of the Innovation Lab is to create authentic learning environments in all schools. He does not want the opportunities it provides to just stay within the FLA campus.
"Part of what the lab has done is we have served as a STEM/Innovation education center for local schools," Henley said. "They can come... like on a field trip, participate in workshops using new skills. They can try out robotics, app development, CAD, and look at the current courses. But most importantly, at the end of the trip, they'll go back to their schools with the knowledge that they learned and are able."
In doing all of this, Henley hopes to form best practices to develop a new vision for schools.
FLA's sister school, Forest Lake Education Center (FLEC), was invited to bring students who were interested in coming to try out some software, learn how to create apps, and use the 3D printers for their projects. Students of many ages, from 3rd graders to 7th graders were able to attend.
One group of kids were gathered around a few iPads discussing the importance of parents knowing the whereabouts of their children in case of emergency.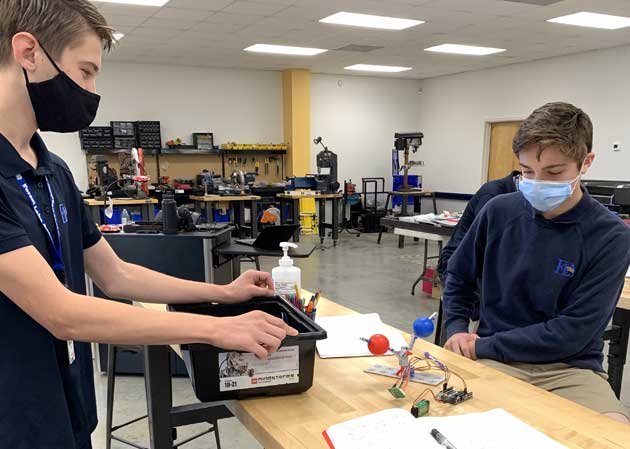 "We are making a bracelet that can protect kids from dangerous animals and let their parents know they're in danger," said Christian Garcia. "It has two buttons, one has sound waves that hurt the animals' ears with a different frequency. The other button sends a text message to the parents, informing them that their child is in danger. When you triple-click it will send off a warning to the police and show where they are and if they are active."
Their design is called the "Stranger Danger Bracelet". They designed female and male bracelets and the age group is directed toward teenagers. Using the Innovation Lab's resources to test their designs with the 3D printers, as well as the designing websites on the computers, the four students, Celeste Hernandez, Oberlin Pierre, Brandon Cassell, and Garcia are near completion of the project.
Sonia Hernandez helps teach the students robotics and hands-on projects at FLEC and is also a Bible teacher. She explained to me the projects each grade was working on.
Pointing to a table of five students, Hernandez explains, "The sixth graders are doing projects that help enhance something, making it better... more functional. Some are doing seat belt safety and an automatic typewriter that writes your paper."
Then she told me about the older students and their projects.
"The project is to create their own designs, making something that can help society. Maybe something that they've wished they could have had at one point, or something that can improve your safety. There is one group that is working on a remote control trash collector."
Henley also works on finding other ways to expand and share the ways of the Innovation Lab.
Before COVID-19 hit, robotics clubs were hosted for underserved kids who didn't have access to or opportunities that the Innovation Lab could provide. Other events such as the girls club and serving the homeless were hosted.
A passion to embrace failure that leads to success
To further the help it could give, the Innovation Lab partnered with the Florida Department of Health and Seminole County. Even as the pandemic continued, the Innovation Lab did not halt its course. A group of students began studying the effects of masks and created their own mask design for AdventHealth. The masks were later tested and approved by their specialists.
But it is not all about the achievements and successes of the Innovation Lab. It is about the many trials and errors of the determined students and willing staff.
"We try to help the students embrace failure," said Henley. "Kids are afraid to do anything because they are afraid to fail. If you are afraid to fail, you will never do anything significant in life."
The importance of the Innovation Lab is that it helps spread knowledge to students that they should not let their age determine if they can make a difference, but to embrace their passions vulnerably and set an example to others.
Click to learn more about Forest Lake Academy and the opportunities for students at the Innovation Lab.
Ava Niemeyer will be a Junior at Forest Lake Academy in 2021-2022, pursuing Journalism through the Innovation Lab.