Faith & Inspiration
By Charles Towne
These questions below are life defining, life changing. If we search our hearts and answer the questions honestly, we are on the threshold of great change, and even greater God- pleasing victory.
Question (1) Am I making a difference in my world and the people in it, today?
Question (2) Am I living my life as an example for good, as God intended, and thus impacting others that they may desire a close walk with the Source of all that is good?
Question (3) Am I a true visionary? And if I am, do I possess a grand vision for my life as the Father intended? If not, why not?
Question (4) Am I content with the mediocre? The blasé? Or, am I striving for the extra -ordinary, that God may use me to His perfect will, and divine purpose?
Question (5) Am I open to change, even though that change may be uncomfortable, even painful? Am I willing to yield my will to His, even though it removes me from the familiar, or my comfort zones that have enticed me and inhibited my growth for so long?
Question (6) Am I progressing toward a definite destination or goal, or am I low on spiritual fuel and in a holding pattern, just circling the airport, about ready to crash and burn?
Question (7) And this is the big one, am I going to be in the same place spiritually a year from now that I am today?
May each of us find an unsurpassed joy as we walk with the one known as the Life-Giver.
Live fully,
Love openly,
And make a difference, today.
Dear Holy God, please, right now, today, this minute, help me to be what you desire me to be. I love you Father, and more than anything else I want to follow you in all things. Praise you, oh glorious one. Amen
---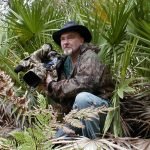 Charles Towne is first and foremost a Christian. An octogenarian, author, journalist, wildlife photographer, naturalist, caregiver, and survivor, his life has been and continues to be, a never-ending adventure filled with possibilities never imagined. He has adopted the philosophy that to Live fully, laugh uproariously, love passionately, and learn like there is no tomorrow, is a formula for a long and joy-filled life.