Free COVID-19 vaccines and tests, cardiovascular exams, glucose, Hepatitis-C tests, and memory screenings
From the Apopka Rotary Club
There is an Apopka Health Fair being held on October 29th from 1:30 pm to 6 pm with life-saving cardiovascular health exams by the University of Central Florida, COVID-19 vaccines by the Florida Department of Health, vaccines and tests by Latin Community Health Advisors. This October event will take place at the IHOP located at 1120 West Orange Blossom Trail in Apopka.
A costume contest will excite the young and young-at-heart starting at 4:00pm, and IHOP will present awards to the winners! In addition, those who attend and go through most of the health booths for exams and tests, as well as getting their "patient record" completed, will get to spin the 'wheel of gifts' to win IHOP food and beverages!
Apopka resident and Chief of Staff Retired Army Colonel Loretta Forlaw, PhD, is coordinating the VFW Post 10147's role in this event, and indicates that, as a registered nurse, "There are many silent deadly diseases. You can have cardiac disease, such as high cholesterol or blood pressure, or an STD and not even know it. It is better to take the test and treat it than not know and your family regrets it."
IHOP, Rotary eClub of Florida, QLatinx, Charity & Love, IMG, Hope CommUnity Center, New York Life—Alejandro Garib, ClinCloud Research, and other organizations are collaborating to host this local Health Fair.
"The US is a global role model, so our public health response to COVID-19 sets an example as all nations watch their resources bleed away; like ours. Lowering hospitalizations is a must," said Rotarian Italia Rico, QLatinx COVID-19 Community Education Consultant. "Especially in the immediate future for those who have lost their livelihoods during the COVID-19 pandemic." Rico, a medical anthropologist from Rollins College, is working on her master's degree in public health from Tulane University.
Rotarian and registered nurse Odette Constant, who is also the owner of Haiti Health & Rehabilitation Foundation, will help out with this event and bet there to answer questions. Advice on Medicare, Medicaid, rental and homeownership direction, fresh food access, and LIHEAP will be given by Rotarian Barbara Ansar who founded Charity & Love, Inc., the nonprofit agency that provides human services to the community. This organization is located at the intersection of Clarcona-Ocoee Road and SR 441. Medicare patients can also apply for a PC tablet with proper identification.
VFW Post/Auxiliary 10147 will help veterans navigate medical opportunities for former service members and will read to children and provide free books to them as well from the Rotary eClub of Florida Little Free Libraries. Many of these books will be donated by Friends of the Library in Maitland.
Other donors include Orange County Tobacco Policy Manager CivCom.com, District 2 County Commissioner Christine Moore, Olmstead Publishing, State Farm Insurance-Rotarian Shren Yeager, Friends of the Library Maitland, Loomis Funeral Home, and Walmart Pharmacy.
Please drop off canned and boxed food for the Rotary District at 6980 Million Meal Marathon. Food will go to those who need it most in the local area.
Rotary brings together a global network of volunteer leaders dedicated to tackling the world's most pressing humanitarian challenges. This year's Rotary president promotes DEI: Diversity, Equity, and Inclusion. Rotary connects 1.2 million-plus members of more than 34,000 Rotarian clubs in over 205 countries and geographical areas. Their work improves lives at both the local and international levels, from helping families in need in their own communities to working toward a polio-free world. Visit Rotary.org to make donations to Rotary International's global efforts.
Rotary International clubs focus their efforts in seven areas: promoting peace, preventing diseases, providing access to clean water and sanitation, enhancing maternal and child health, improving basic education and literacy, helping communities develop, and the environment.
Rotary District 6980 of Florida consists of 47 Rotary clubs in five Central Florida counties: Orange, Osceola, Seminole, Lake, and Sumter of approximately 1,650 business and community leaders.
Rotary eClub of Florida is a global club of community-minded people able to serve wherever and whenever they choose without limits to time and place. Inquire at FloridaeClub@USA.com, https://RotaryeClubofFlorida.org, and Facebook.com/RotaryeClubofFlorida.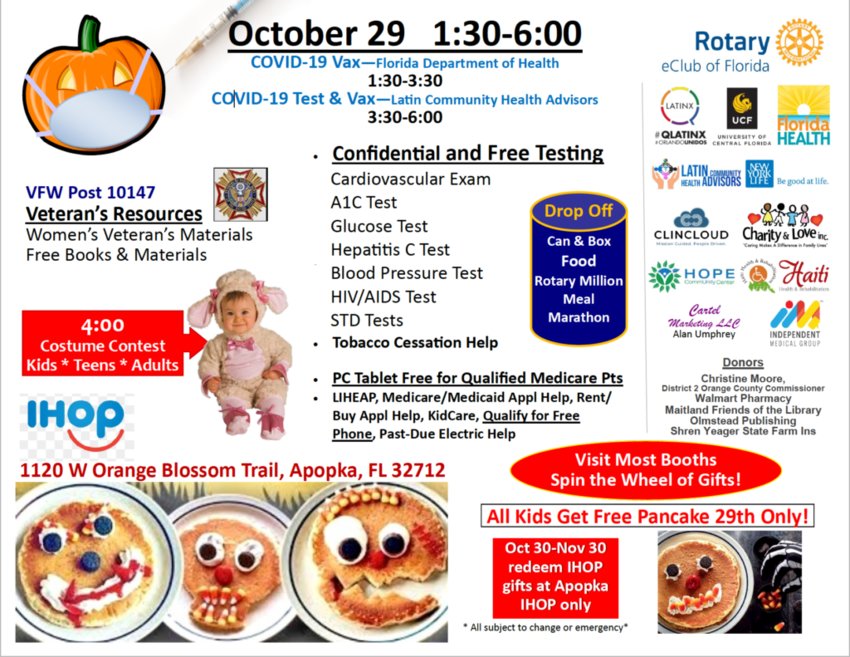 Flyer courtesy of the Apopka Rotary Club