By Mickenzie Hannon, Interning Correspondent
Faryn and Brynn are the greatest of sisters. Through trials, tribulations, homelessness, and pregnancies, they have supported one another.
Faryn, a sweet and outgoing light brown tabby cat, was discovered with Brynn, a shy yet trusting and friendly grey tabby cat. The sisters were both pregnant when they were discovered in Orlando and both gave birth in February—Faryn mothering three kittens and Brynn mothering two.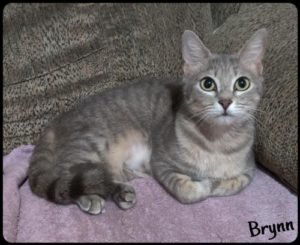 Brynn
The kittens have all found loving homes, and now, Faryn and Brynn would like to be next.
My name is Mickenzie Hannon, and since 2018 I have supported Candy's Cats. Initially, I volunteered to earn community service hours for high school organizations and scholarship opportunities; however, after meeting that requirement, my volunteering became a labor of love.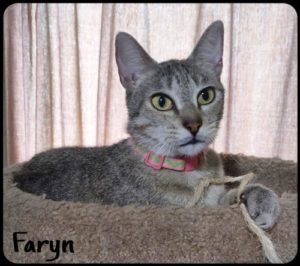 Faryn
But in order to continue carrying out their mission, Candy's Cats needs help from the community.
With each spring season comes the overwhelming, massive intake of kittens into rescue organizations and shelters. Most are at capacity due to this annual influx referred to as 'kitten season', as well as others that have become homeless due to the impact of COVID-19. The increase in cat intakes leads to higher numbers of cats dying in shelters. In fact, "69% of the animals killed in shelters are cats."
June is Adopt a Shelter Cat Month. To help combat the steep rise in animal intake this kitten season, Candy's Cats is celebrating its 16th anniversary in Apopka with an adoption event Sunday, June 6th from 11am to 5pm at the Winter Garden Village PetSmart.
Candy's Cats is a no-kill, foster home-based nonprofit organization that is dedicated to the reduction of the homeless cat population in Central Florida. The organization encourages community members to consider adopting a cat, making a donation, volunteering or becoming a foster parent.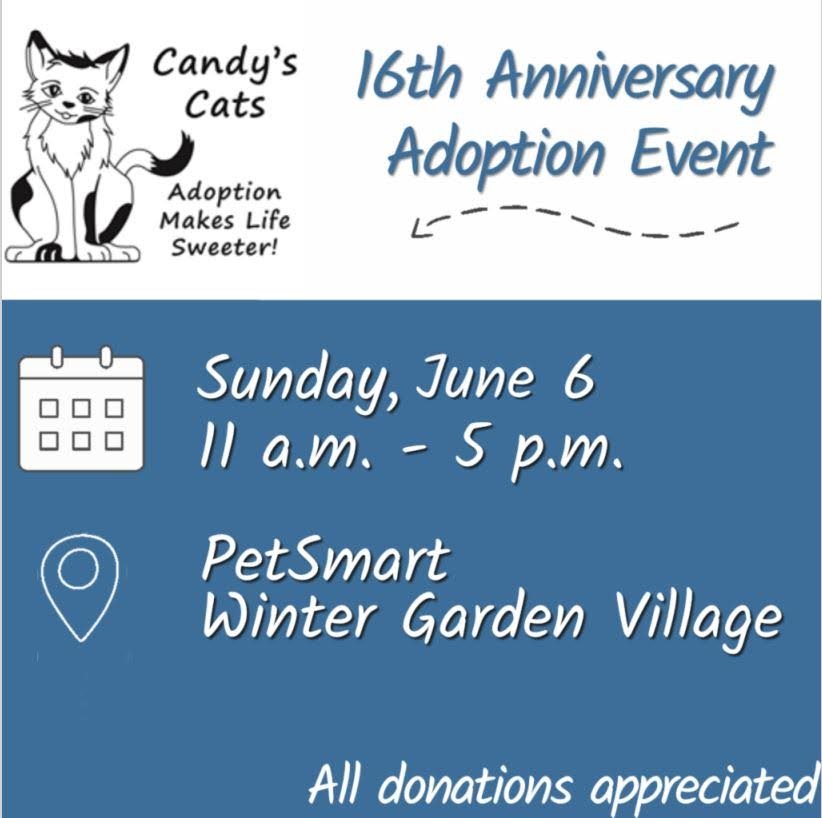 "We are the rescue organization that everyone said wasn't going to make it," said Candy Sullivan, president and founder of Candy's Cats. "Yet, Candy's Cats has continued its commitment to animal welfare and rescue efforts since 2005."
Sullivan started Candy's Cats with the hope of creating a rescue organization that kept the fosters and volunteers involved in the entire process, which was something she thought was lacking from other rescue organizations at the time.
The success of Candy's Cats, according to Sullivan, is due to "the volunteers and their dedication."
Candy's Cats has an Adoption Cottage and Welcome Center located in Apopka at 307 West Main Street.
They hope to schedule adoption events at their Apopka location in the future, but currently, adoptions are by appointment and with an approved application. In addition to their Apopka location, Candy's Cats has adoption centers at Winter Garden Village PetSmart and Pet Supermarket in Oviedo. It strives to find the best match between the adopter and their new feline family member, and they often have an ongoing relationship with their adopting parties.
"You just never know whom you're going to match with," Adoption Coordinator Jami Pratt said. "I suggest all the cats because they all deserve a chance—not just the cute ones and not just the ones that are going to be your best friend in five minutes—the cat that is shy or scared still deserves a chance."
As Sullivan explained, "With approximately 70 kittens to [microchip, vaccinate] spay and neuter, our vet bills will exceed $7,000 just for that alone. This doesn't include the the other day-to-day cat care. In advance, thank you for your help."
There are several ways that one can help: donating, adopting, volunteering, and fostering.
Donations
Those interested in supporting the organization's animal welfare mission can contribute monetary donations through Candy's Cats PayPal, as well as donations through their Amazon Wish List, which would assist with much-needed supplies, including kitten formula, litter, and canned and dry food.
Adoption
https://www.youtube.com/watch?v=KB-s_p4eIHE
Candy's Cats also encourages everyone to consider adopting a new feline into their family. "Adoption fees may vary, as they work to cover the varying medical expenses for each cat," but they generally range from $50 for adult cats to $125 for kittens—which covers the cost of spaying/neutering, deworming, vaccines, microchipping, parasite control and tests for Feline Leukemia and Feline Aids. Cats available for adoption are listed on the Candy's Cats website.
Volunteer
Several volunteer opportunities are available from fostering to caring for the cats at the Winter Garden Village PetSmart Adoption Center or at the Candy's Cats Cottage in Apopka. Candy's Cats is a great local organization where one can earn community service hours and serve a good cause. The volunteer network remains passionate and determined to assist the animals and help them find their forever homes.
I hope you consider opening your home and heart to rescue efforts, whether it is through adoption, fostering, volunteering, or supporting the organization through other means. Every contribution truly goes a long way and certainly makes a difference in the lives of these animals.
The adoption event will have approximately 15 cats and kittens who are all available for adoption, but there are over 120 cats currently in the organization's care.
"It's all about saving lives," Pratt said. "There are so many homeless animals, and we are here to save as many as we can and help them find their forever families."