A public natural gas utility like LANGD is great for local communities because of its citizen participation, competitive rates, benefit to the local economy, and as a non-profit, focuses on service rather than profits
From Lake Apopka Natural Gas District
Affordable, clean, and versatile. These three words define why over 6 million homes and businesses nationwide rely on natural gas to power their homes, businesses, and vehicles. In Florida alone, according to the Florida Natural Gas Association, there are 31 public natural gas utility systems serving over 269,000 customers.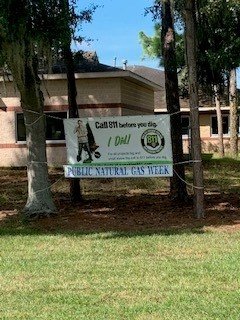 If you are, or have ever been, interested in learning more about natural gas and all that it has to offer, you are in luck. Lake Apopka Natural Gas District (LANGD) and the nearly 1,000 other public natural gas utilities across the country will celebrate Public Natural Gas Week Oct. 3-9, 2021.
This nationwide observance – celebrated annually during the first full week in October – showcases public natural gas utilities and generates enthusiasm about the benefits of natural gas service. During Public Natural Gas Week, LANGD aims to educate customers in its service area about the many benefits of using clean, reliable, and affordable natural gas, and natural gas appliances.
A public natural gas utility like LANGD is great for local communities for many reasons, including:
Local Control: Having a public natural gas system gives a community local control over how gas is provided to homes and businesses. Decisions are made through citizen participation instead of being made in a distant city by people who do not understand local issues and who are primarily focused on profits instead of service.

Competitive Costs: To offer fair and competitive rates, public natural gas systems operate as not-for-profit entities. Public natural gas systems do not face pressure to return profits to shareholders.

Economic Benefits: Public natural gas systems play a valuable role in helping communities broaden their tax bases, and in turn, improve the local economy and increase jobs. Public natural gas systems ensure that local dollars stay at home.

Customer Service: As a not-for-profit entity, LANGD focuses on service, rather than profits. Public natural gas systems are an integral part of a community and maintain close relationships with customers to meet their needs.
In addition to its wallet-friendly and green benefits, natural gas is always there when you need it, fueling your home or business even when the power goes out.
More than 26,000 customers trust LANGD to meet their natural gas needs and the team is constantly committed to meeting the highest standard of excellence. In 2020, LANGD was honored with its highest-ever distinction – the American Public Gas Association (APGA) Gold System Overall Achievement Recognition Award – for the first time in company history. For 10 consecutive years, LANGD has also earned APGA's Safety Award, and, for five consecutive years, LANGD's gas system has been found in satisfactory compliance with state and federal natural gas pipeline safety rules by the Florida Public Service Commission.
Ready to make the switch to natural gas? Call the LANGD Marketing Team at (407) 656-2734, ext. 307, to learn more. In celebration of Public Natural Gas Week, LANGD customers are eligible to receive a 2022 calendar by stopping by any of our three offices at 1320 Winter Garden-Vineland Road, Winter Garden, 38 N. Park Ave, Apopka, or 676 W. Montrose Street, Clermont, or by calling our marketing team or emailing marketing@langd.org. Limit one calendar per account, while supplies last.