By Tia Atal
Airlines and online booking sites have improved their algorithm so they can tell from which country you are booking your flight. That is why finding a cheap flight has become harder.
After testing multiple ways, I found that the best and quickest way to book cheap flights online is to use a VPN.
A virtual private network (VPN) masks your real IP address and assigns you a new IP address depending on the server location you have connected to.
This way, you can browse for flights from all around the world as the booking sites cannot track your actual location.
To further reduce expenses, you can also save money by getting a cheap VPN to search for flights online.
If you are planning a trip, here is a list of cheap VPNs by VPNRanks that you can get for as low as $1.64.
Now that we've gotten that out of the way, let's check out how you can book cheap flights by using VPNs.
Use a VPN to Get Cheap Flights Worldwide
The easiest and quickest way to get cheap flights is by using a VPN. VPN allows you to browse the cheapest flights from anywhere in the world.
With a VPN you get access to servers in different countries that you can connect to. For example, when you connect to a server in London, you will get a British IP address and it will change your virtual location.
Now when you visit the flight booking website, it will trick the site into thinking that you are trying to search for flight tickets from London. This way you won't get actual fares in your area, but flight fares in the UK.
As travel sites cannot track your IP address and location, they don't get the data required to increase the ticket price according to the region.
If you want to find cheaper flights you can connect to a VPN server in countries such as India, Mexico, etc. Flights are expensive in high-income countries like the USA, France, and more
With a VPN, you can also compare flight fares from around the world and get the cheapest deal. To get started, you need to download a VPN on your device and log in.
Once you have logged in, connect to a server location like India. Now head over to a travel site like Skyscanner and search for cheap flights.
I also decided to test the VPNs while searching for cheap flights. I looked for flights between London and Seoul. Without the VPN, the cheapest flight that I got was around €1077 ($1262). Once connected to the India server, the cheapest flight was around €987 ($1157).
Aside from the price drop, I had more flight options to choose from with different stops, and airlines - resulting in cheaper flights as compared to without a VPN.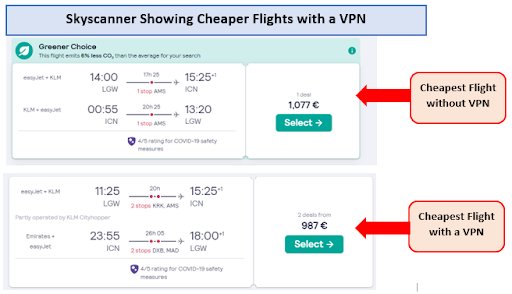 Popular Flight Comparison Sites
There are hundreds of flight comparison sites online, so don't just stick to one site if you are on a hunt for cheap flights. Here is a list of some of my top recommendations:
You will find different flight fares on these comparison sites. To get the best deal, you can use Cheap Flight Finder to compare the fares on these sites. You simply have to add travel details and it will present you with comparison sites and the cheapest flight available.
For example, the flight from London to Seoul costs around £400 ($547) on Vayama, and the same flight is available on Trip.com for £419 ($573). This way you save £19 ($26) by opting for the cheapest flight.

Having trouble finding cheap flights with a VPN?
If you have got a VPN but are having trouble finding a cheap flight, here are some troubleshooting tips:
1. Clear browser cookies
Make sure to clear your browser cookies and cache to prevent the travel site from tracking you. Cookies store user data and browser activities. These are used by websites to create your digital profile, so cookies can be used by travel sites to determine your actual location. That can be a reason why you are not able to find a cheap flight using a VPN.
To clear cookies, if you are using a Chrome browser, click the menu (3 dots) > More tools > Clear browsing data. This way, travel websites will have no information to get your actual location.
2. Use Incognito mode
You must have noticed that when you revisit a site, it keeps increasing the ticket price. This is because travel sites can see your browser activity and can find out the flight you are interested in. To avoid that, make sure to use the incognito mode when searching for flights using a VPN.
However, keep in mind that using incognito mode will not hide your IP address, as for that you need a VPN.
Save Money and Get Cheap Flights Now
A VPN can help you get cheaper flights by disguising your virtual location and identity. It gives you a new IP address located in a different region according to the VPN server you are connected to. VPN is the easiest way to get the cheapest flight fares from anywhere in the world.
Happy traveling!