Take some time this Saturday and bridge the gap between old and new Apopka. Have a beer, meet a chicken, and maybe take home a few gifts.
From Staff Reports
For decades, farms were the backbone of this community. Residents relied on them for food, employment, and to stimulate a largely agricultural economy. It's why they still call Apopka "The Indoor Foliage Capital of the World".
In 2021, as the economy continues to transition, the farmers and growers of our region are often closer to Zellwood and are commercial businesses not typically accessible to residents.
Wouldn't it be great if Apopka could retrace its roots through a little more accessible farm and bridge the gap between past and present?
As it turns out, that bridge isn't too far away.
Fox Valley Farm & Hopyard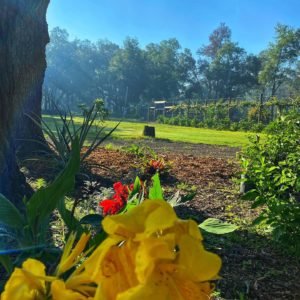 Take a short drive from downtown Apopka north on Rock Springs Road, and turn right on Ponkan. A couple of blocks later, turn right onto Junior Avenue and you'll see the entrance to the Fox Valley Farm & Hopyard.
It's a charming little five-acre farm, family-owned with orchards full of unique fruits and muscadine grapes. It's also home to 130+ chickens, 17 ducks, and 10 turkeys. Fox Valley has a nursery and a market on-site that hosts local vendors' items as well as other unique gifts and products.
Mike and Jennifer Fox, with their boys Alex, Sebastian, and Gabe are the proprietors. They bought the property in 2017 with a dream of becoming a sustainable small farm.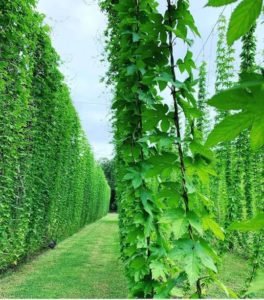 The Hopyard
"Having no prior land or farming experience we quickly began learning the ropes from chickens to planting," says Jennifer. "The farm was well on its way to becoming a place to share with others in ways we had envisioned for years."
Although having a small farm was always on the to-do list for the Foxes, building a hopyard and growing hops was not. This idea came from a friend who had a love for craft beer and discovered there was a need for farm-fresh-to-brew. Kind of like farm-to-table, except with beer.
They took his idea and ran with it.
The Foxes took a chance on the unusual crop, and today have five different varieties that surpassed all of their expectations. The hopyard is 14,400 square feet of Florida-grown hops ranging in various flavors and varieties to suit all your brewing needs.
They also like to brag on their chickens and eggs, and for good reason.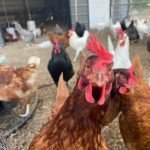 "In addition to hops, we are raising the hoppiest free-range chickens on earth," said Jennifer. "Our chickens are hugged daily and provide the farm so much life and entertainment we couldn't imagine doing this without them. In return for providing them an orchard to free-range in, they provide us with the most nutritious and delicious eggs we've ever tasted."
Open House this Saturday
These past years have been quite a journey for the Foxes, and this Saturday is their introduction to the Apopka community.
The Fox Valley Farm and Hopyard (2905 Junior Ave., Apopka) cordially invite you to come out and take a look at their farm this Saturday, August 28th from 9 am - 2 pm.
See the hops before the harvest and enjoy a beer brewed from the hops they have grown.
The Farm & Hops Tours begin at 10 am, 11 am, noon. No need for a reservation, just show up and enjoy the farm.
There is also a Gift Shop/Market for specialty items including whole cone hops, and gifts – products for bath & body, coffee & tea, honey, candles & home craft beer & hops products, garden & seeds, and more.
So take some time this Saturday and bridge the gap between old and new Apopka. Have a beer, meet a chicken, and maybe take home a few gifts. It should be a great time.
Check out Fox Valley on their Facebook or Instagram pages.