Forest Lake Academy hosts three CO-ED summer sports camps - basketball, soccer, and volleyball - open to all student-athletes in the community
By Ava Niemeyer, Interning Correspondent for The Apopka Voice
She expected a gruesome four hours of non-stop basketball drills. Instead, Yadelin Lopez was pleasantly surprised to find herself soaking up every minute of her school's basketball summer camp. Forest Lake Academy (FLA) hosts three CO-ED summer sports camps - basketball, soccer, and volleyball - open to all student-athletes in the community.
"At first, it felt like a lot, but then it didn't seem like four hours and began to feel shorter," said Lopez, reflecting on her improvement after her own experience at the basketball camp. "The time gives you more room to not just build skill, but use it and embed it into your own game."
For one week, athletes will spend four hours a day at a five-day sports camp, from grades 7 to 12, expanding their skills and athletic abilities in a positive environment.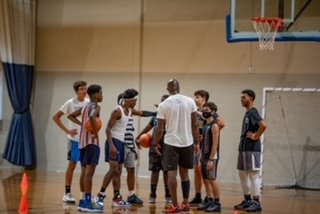 "It is important to improve your skill as a student-athlete, and that takes consistency," says Kevin Pride, FLA's Athletic Director. "Camps provide that consistency because you come the next day, and you pick up exactly where you left off."
The hope is that each athlete will end the week not only as a stronger player but with a positive new outlook on life.
"Our camp is a camp that is going to teach and improve skills, but also apply life lessons," shares Pride.
The program includes all aspects of an athlete's growth process.
"They repeat a lot of the drills," explains Lopez. "It's one concept and then repeat. But they add on to each one so you keep learning and improving on that move... then you apply it to a real game situation and it becomes muscle memory. I didn't even have to worry about choosing the moves in a game, they would just come naturally."
But throughout this process of growth in these athletes, the importance of character is not forgotten.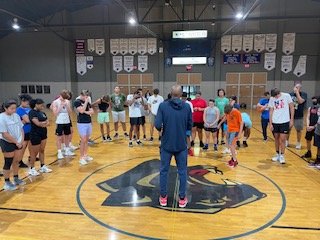 Between the everyday competitions held, each player meets in the middle of the court, and Sullivan Phillips, a former MVP of the European basketball league and now the head coach for the FLA's basketball camp shares an important reminder. He encourages them to compete hard as God does for their hearts, to always give it their all even when they're tired.
Phillips guides each athlete to their greatest potential, right alongside coaches Rodney McFadden and Hamilton Peralta.
Thankful for the comfortable atmosphere and enlightening life lessons these coaches provided, Lopez shares her gratitude, "It changed me and impacted me. Mr. Sully did a great job of making the intensity high so you came out with better, stronger skills."
But with both the volleyball and soccer camps left to go, Pride predicts even better turnouts for both. Working hard to make the facilities and opportunities possible for all participants in these camps, FLA is hoping for more athletes to grow in skill and in character.