By Allen Brown
Fishing can be a fun and entertaining activity, and a great way to explore the outdoors. It also offers a bit of exercise, which is important for maintaining good health. However, fishing is not a simple activity. It requires the right conditions and the right balance of skill, patience, and knowledge. Of course, a little luck also helps when it comes to the success of your fishing ventures. It may seem like a complicated affair if it is your first time, but this does not have to be the case. It is necessary, though, to use the right gear and equipment to facilitate a successful fishing experience. So, how do you determine what the best fishing equipment is to use?
As a beginner, you may think to go for cheap or older gear while learning the ropes of the sport. It's easy to think you may lose some of the equipment while trying to master the art of fishing, so why invest in good tools at the start. That maybe something to consider; but why not get the right equipment that will actually help you catch a fish? Whether you decide to go for older fishing gear or the latest technology, there are a few factors to consider to help you find the right gear for you. Read on to find the top outdoor equipment to ensure you carry out your fishing activities just right.
Equipment Efficiency
When you are looking to buy the top fishing equipment, it is essential to check the efficiency of the equipment. Using equipment that is poorly constructed will make the process much more difficult for you. You will end up tired within a short time, using more energy to compensate for the poor efficiency. You can find great boards to facilitate your fishing at HUMBERSPORT. Make sure you analyze the equipment before you purchase it, whichever direction you go. And feel free to try it out yourself on a "dry run", as well as asking for help from pros and experts on what to buy.
Power and Action of the Rods
Power, or the rod weight, is the amount of force required to bend the fishing rod when angling. It is classified from ultra-light to ultra-heavy. Ultra-light fishing rods are better suited for smaller fish, with the ultra-heavy being better suited for deep sea fishing when you are angling for larger fish species. Action refers to where along the blank of the rod the bend occurs. Slow action rods bend closer to the handle of the structure resulting in more flexibility and whip of the pole. Fast action rods refer to more rigid rods which flex only at the top third of the blank. Medium action rods combine both aspects to provide much more versatile functionality. Slow action rods are better suited for light lures and slower baits, while fast action rods are great for throwing heavier baits. The choice of equipment you settle on depends on the type of fish species you intend to catch. Go for slow action and light rods if you want to see small species, and fat action and heavy rods if you plan to catch bigger fish species.
Fishing Location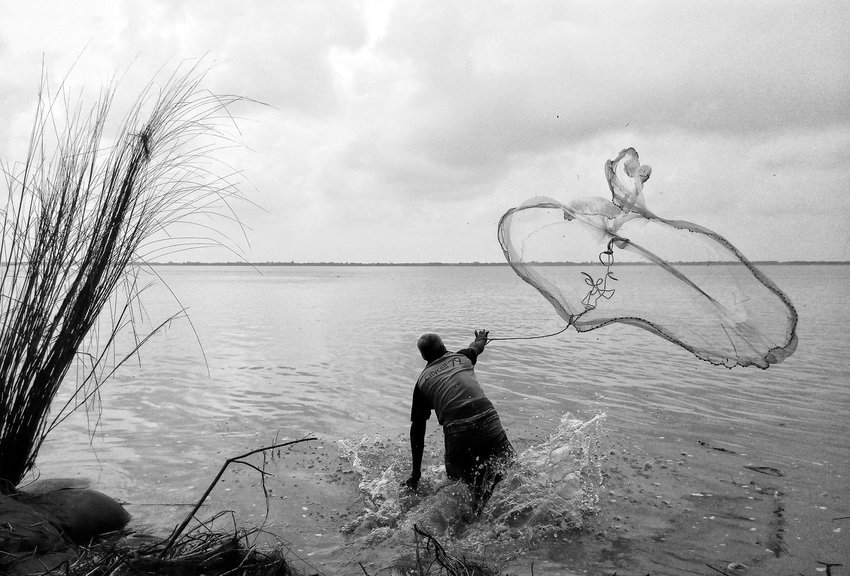 The type of fishing equipment you decide to buy should be determined by where you choose to fish. For example, you might try fishing in a small river or stream, or a much larger body of water. This will affect your equipment choice. You will most likely need to opt for much smaller fishing equipment if you are fishing in a small water body for leisure, versus fishing in a much larger water body, or going for much larger fish, which would warrant more sophisticated equipment. A simple fishing rod with lures and bait will be enough to carry out fishing on a small scale. Try using live worms for this, forming them around a bare hook, and wait for the fish to bite. Lures, of course, refer to decoys designed to attract fish. You may also need bobbers, which are small floating balls that sink, indicating the presence of fish when they bite onto the bait. A rubber net may also prove to help haul the fish in. But again, you may have to invest in larger equipment for larger-scale fishing. A larger or more aggressive fish species may necessitate fishing gear equipped to handle them.
Fishing is a great way to enjoy the great outdoors. To fully enjoy the experience, having the right equipment and gear is vital. However, like any new outdoor activity, your fishing expertise and needs will change and grow as you gain more experience. Just know, you can upgrade your equipment and add more to your inventory when you need to take the next step.