By Jennifer Fox, Fox Valley Farm & Hopyard
One of the most popular questions we get asked by visitors to our farm is about the color of our eggs: Do the different colors have a different taste? The short answer is no.
While the eggs look different on the outside, their inside is all the same. Prior to having our farm, we believed that brown eggs tasted better than white eggs, not realizing there were many factors that contributed to that idea.
What actually determines flavor has nothing to do with the color, but instead with the chicken's diet and lifestyle.
A chicken who mainly consumes a diet of feed and spends little to no time outdoors foraging will have a different richness in flavor as compared to those who spend the majority of their day consuming bugs and natural greens. Egg yolk color can also vary depending on diet. A rich orange yolk can indicate a diet that is high in carotenoids such as those found in insects, carrots, herbs, weeds, and different flowers like marigolds.
Our hens are fed the leftover hop bines during harvest times and it contributes to a healthy, full flavor egg as well as providing a natural antibiotic for their overall health.
So back to the color of the egg... w
hy are they different, and how does it happen?
Egg color is determined by the variety of breeds. Each breed begins with a white egg during the laying process. However, in the egg's journey, it encounters a gland that tints the surface of the egg with a pigment. That pigment is what creates the end result of a beautifully colored egg.
So the next time you open a carton of fresh eggs, know that each one was beautifully and wonderfully made.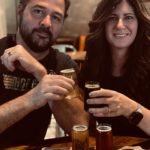 Mike and Jennifer Fox are the owners of the Fox Valley Farm and Hopyard in Apopka. They bought the five-acre property in 2017 with a dream of becoming a sustainable farm. Fox Valley has orchards of unique fruits and is home to over 130 chickens, 17 ducks, and 10 turkeys. The hopyard is 14,400 square feet of Florida-grown hops ranging in various flavors and varieties to suit all your brewing needs.