Backpacking stoves and how to select them
Having a cooked, warm meal while outdoors can be extremely soothing and comforting, and this requires a backpacking stove. However, it might not be easy to choose the right backpacking stove as there are several things to consider. These include how heavy it is, its versatility, functionality, the number of people you intend to cook for, as well as the availability of fuel. Thus, these factors can be classified into two main categories: type of stove and its features and specifications. For more camping information and products, visit the expert camper.
Varieties of backpacking stoves
Generally, backpacking stoves come in three main types: canister, liquid-fuel, and alternative-fuel stoves.
Canister stoves are a no-frills, easy-to-use kind of stove that is fixed atop closed fuel canisters. These canisters contain propane and isobutane that are pre-pressurized. They are small and lightweight and extremely easy to use. They are also easily adjustable and the canisters seal themselves when you detach the stovetop, making it safe to use. They also come built-in with a pressure regulator that makes them ideal to use even in colder weather. However, canister stoves might be limited as they might not be able to cater to larger-sized pots and it can also be tricky to check the amount of gas left in closed canisters. There is also a chance of the canisters depressurizing in higher elevations and fuel is also relatively more expensive. Some examples of canister stoves are integrated canister systems as well as remote canister stoves.
Next, liquid-fuel stoves are fueled by white gas. These stoves are ideal for extreme winter conditions as the gas burns nice and hot, making them a more inexpensive option. They are also rather stable even on uneven ground and it is easy to tell the amount of fuel remaining in the bottle. Other fuels also include kerosene, diesel, or jet fuel. However, many liquid-fuel stoves require some priming and maintenance. They can also be heavier with a possibility of fuel spills. The liquid fuels may also have impurities that can accumulate and clog stove parts over time.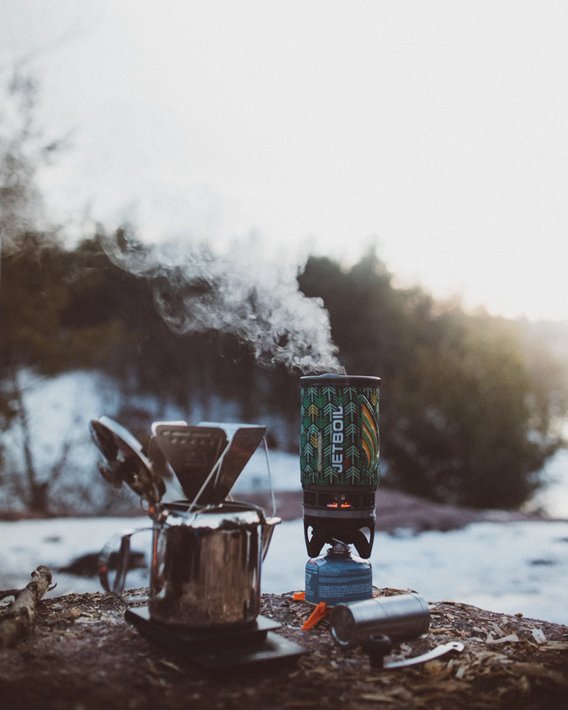 Lastly, alternative fuel stoves can be an ideal choice for longer-distance trekking trips or even as part of your home's emergency kit. They include wood-burning stoves, denatured alcohol stoves as well as solid-fuel tablet stoves. Wood-burning stoves are lightweight and easy to use, and they store flat, making them easy to be carried around. Some can even produce enough electricity to charge up small electrical gadgets. However, it can be difficult to find dry fuel in wetter climates and some (high elevation) places might even ban the use of such stoves.
Denatured alcohol stoves are also extremely lightweight and easy to maintain. They are also rather cheap and accessible, whereby the fuel burns without noise. However, the alcohol does not burn as hot and would require more fuel to burn. A windscreen is also required and denatured alcohol can be difficult to obtain. Lastly, solid-fuel tablet stoves are also a good option as they are not expensive, light, and easy to carry around. The tablets can also be lit easily and can be reused. However, they take a longer time to heat up, leave behind a greasy residue, and might produce an unpleasant smell.
Features and specifications
Other factors to take into consideration when choosing a backpacking stove are the weight of the stove, how long it is able to burn, as well as the average boiling time. In general, integrated canister stoves are able to boil water the fastest while utilizing the least fuel. Both canister and liquid-fuel stoves are able to boil water quickly and are good for outdoor camping trips. The simmering abilities of these stoves vary by model. Alternative fuel stoves are designed for boiling, albeit for the longer time needed. Another specification that you might want to consider is whether the stove comes with a piezo-igniter or not. Piezo-igniters come in the form of a button and help to produce a spark in order to light your stove, and these are present in canister-fuel stoves. These can be a convenient feature to have, especially in wetter climates. Finally, some stoves come with stabilizers that can help to keep your stove from tipping over, especially on uneven ground.
Tips for using your stove
After choosing the most suitable backpacking stove that best meets your needs, here are some useful tips that might enable you to get the best bang for your back when you are using your stove out in the open.
Avoid cooking inside enclosed spaces such as tents as there is a risk of carbon monoxide poisoning as well as starting a fire. It is also important that you ensure that all valves and fuel lines are in good working condition before lighting your stove. To ensure a safe cooking experience, place your stove on a level surface such as an old vehicle license plate, and always have a multi-tool and stormproof matches on hand so that you are able to make the necessary repairs while on the go and continue using your stove should the piezo-igniter fail.
Another useful tip for canister stoves is to store them somewhere warm in order to maintain the pressure as this would allow the stove to burn efficiently, especially at higher elevations. While cooking in colder temperatures, you can do so by putting the stove in your sleeping bag or jacket pocket, and insulate it with some foam on the bottom while cooking.
Finally, prime your liquid-fuel stoves using alcohol so that they will remain free from soot. Leave some space for an adequate amount of pressure buildup as the fuel is heated. In colder climates, it is good to use a heat exchanger that helps to heat up the pot much quicker, saving on fuel. It is also important to be careful that your bare skin does not come into contact with the fuel as this can cause frostbite. White gas is also not advisable as its quality declines over time If you are intending to keep your stove for a long period of time, be sure to empty the fuel tank.
Conclusion
Backpacking stoves can be extremely handy when you want a quick and efficient way to cook your meals. Hopefully, this article has given you some idea of which type of stove is most suited to you.