From the Office of Orange County Commissioner Christine Moore, District 2
Along Wekiwa Springs Rd. you may have noticed the large signs at either end, between SR 436 and Welch Road, proclaiming the road the winner of the 2021 District 2 Corridor of the Year (COY) Contest. Orange County Commissioner District 2 Christine Moore held the inaugural, friendly corridor competition to encourage neighborhoods along the nominated roads to clean up and beautify their frontage facing the corridor.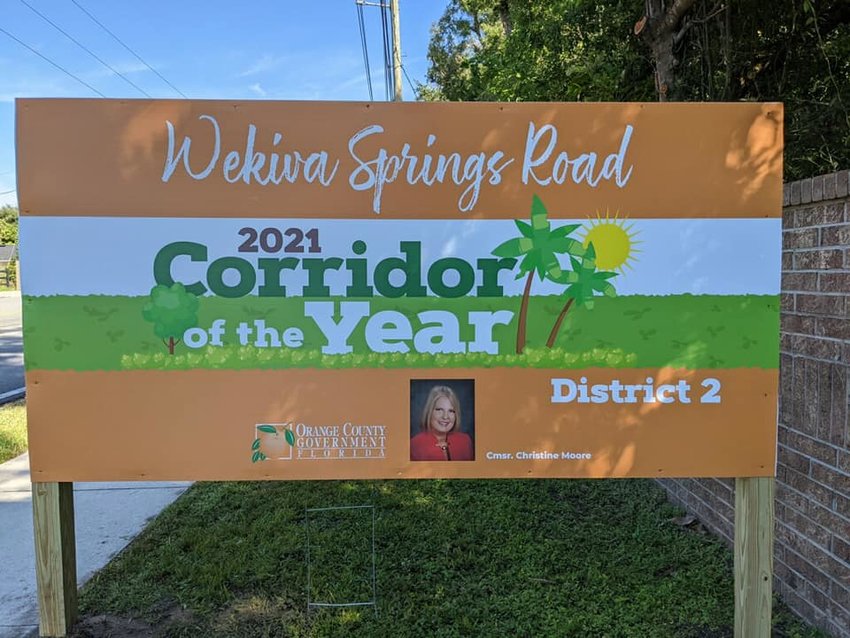 On October 16, 2021 four independent judges traveled the four corridors in the running -Hiawassee, Magnolia Homes, Sheeler, and Wekiwa Springs roads - looking for items such as:
Landscape beds with mulch

Clean walls and sidewalks

Mowed grass

No trash or "snipe" signs

A clear view of the neighborhood's sign
Homeowners association (HOA) board members and voluntary neighborhood leaders, where there are no HOAs, spent countless hours laying mulch, weeding flower beds, cutting grass, picking up trash and pesky "snipe" signs. Now the benefits will last for a long while ahead.
"The goal of this contest is to beautify neighborhood frontage, reduce crime by getting rid of trash and signs, and to increase community engagement," said Orange County Commissioner District 2 Christine Moore. "A well-manicured entranceway affects the value of every home in a neighborhood. A clean neighborhood tells criminals to stay out. When we all work as engaged neighbors for a common goal such as winning a contest, we create stronger communities at large."
Commissioner Moore started neighborhood leader meetings in 2019 and decided on 2021 as the pinnacle year to start a Corridor of the Year Contest. Many of those meetings were held virtually due to COVID-19 concerns.
Since taking office in December 2018, Moore launched the HOA of the Month honor. Communities are acknowledged monthly for their outstanding entranceways with a sign placed in the common area announcing the award.
This year the winning corridor is Wekiva Springs Rd. Neighbors will receive two benches which will soon be put in the right-of-way near the Bent Oak subdivision and another one closer to SR 436. Also, Commissioner Moore will upgrade street lighting to LED.
The neighborhoods that participated put in plenty of sweat equity to win the COY contest. It wasn't easy, but well worth it. Another contest will be held in 2022.
Congratulations Wekiva Springs Road!