By Daniel
Quality church chairs are in high demand as more churches move away from church pews. Churches can choose stackable church chairs, non-stackable chairs and a variety of other styles. When you're looking through a chair catalog, it can be difficult to know the advantage church chairs have over each other.
Finding the best quality church chairs means knowing what characteristics to look for in each chair.
5 Characteristics of the Best Chairs for Church
1. Stackable Options
Chairs are meant to save space, but they're also cumbersome when you have hundreds of them. Cleaning the area or making room for a special event is difficult when chairs don't stack.
For 99% of churches, we recommend vertically stackable chairs to save space.
If you purchase non-stackable chairs, they'll work great, but you'll limit your options when using them. The right chairs will provide comfortable seating, last long and be easy to move. When discussing chairs with a vendor, feel free to ask if they have the chairs that you like in stackable options.
Most chairs are stackable, but you want to be 100% certain that the chairs you purchase are stackable before they're shipped to your church and you accept them.
2. Padding and Cushioning
Are you looking for high-quality church chairs with padding? You should be. One of the reasons churches choose church chairs instead of church pews is because chairs have padding and cushioning that make them more comfortable.
Be sure to consider the fabric and padding of the chair to find an option that works best for you and your congregation.
Heavy-duty fabric will undergo immense testing, including double rub tests, to ensure that the material and cushioning lasts. If you're interested in a fabric type that the retailer isn't offering just yet, ask if they can custom-make the chair or if they have options that aren't available in their catalog.
Manufacturers will work with you to find a fabric that meets your church chair requirements.
3. Frame Types and Finishes
What type of frame does the chair have? A wooden frame, plastic, metal or another material? Metal is often the strongest material for frames because it can withstand high weight loads and is highly resistant to damage.
Wood is also strong, but plastic models can break and wear over time. The main benefit is that the plastic models are more affordable.
If your chair has a metal frame, consider powder-coating, which offers a dense, thick coating that is longer-lasting and more durable than non-coated frames. The coating will also hide scuffs or scratches on the frame.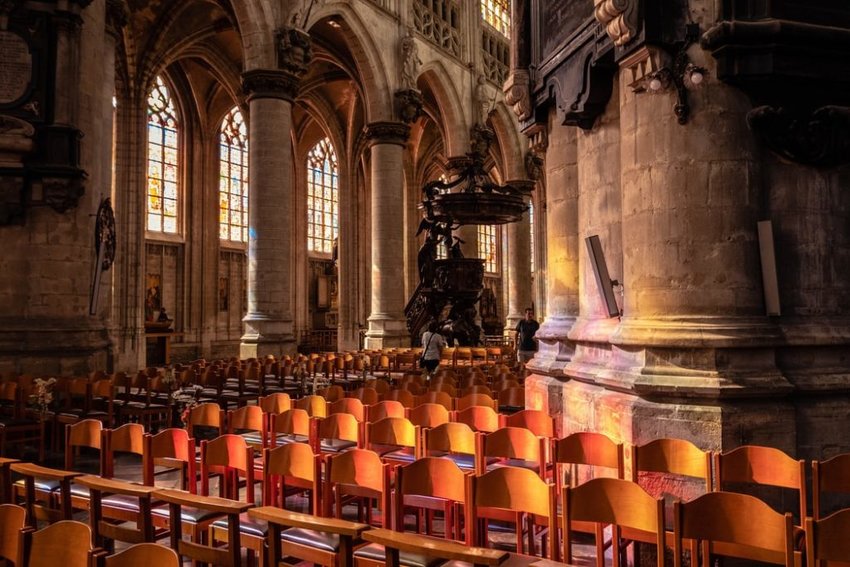 4. Warranty and Longevity
You're making an investment in your church chairs, so it's essential to ensure that the chair lasts a long time. A few of the ways that you can safeguard your investment when purchasing chairs for church are:
Warranty

: What is the current warranty offered for your chair? Many manufacturers offer a warranty on the frame of a chair and on the fabric. Frame warranties can be as long as 10 years.

Longevity

: Manufacturers often conduct tests on each chair to make sure that the fabric doesn't rip or degrade over time. The longevity tests often include 80,000 double rubs or more. These tests allow you to know when you can expect fabrics to wear. Weight tests are also performed to determine how much weight the chair can withstand before failure.
A warranty and testing allow you to purchase chairs that last long and can withstand the frequent use of your congregation.
5. Size Options
Chairs come in a wide range of sizes. You need to consider the different heights and weights of church members. You'll likely have adults, children, skinny and larger members in your congregation.
A one-size-fits-all chair is difficult to find.
Even if the chair has a depth and width that's large enough for you, that doesn't mean that it's a good ergonomic fit for everyone. For example, a chair can be uncomfortable for taller members and very comfortable for shorter members.
It's important to consider all of these different characteristics of your church members when choosing the right size chairs. A mix of small, taller and wider chairs is always a good option to accommodate all of your congregation members.