Latest: Dorian Could Strengthen to a Major Hurricane
At a Glance
Hurricane Dorian is now centered in the western Atlantic Ocean.
Dorian will then threaten parts of the Bahamas and the southeastern U.S. over Labor Day weekend.
The most likely scenario is a track near the Florida Peninsula late in the weekend, but exact details will change.
Residents from the northern Gulf Coast to Florida, Georgia and the Carolinas should monitor forecasts closely.
Hurricane Dorian is forecast to intensify into a strong Category 3 hurricane and pose a major danger to the southeastern U.S., especially Florida, over Labor Day weekend.
Dorian's center is about 150 miles north-northwest of San Juan, Puerto Rico, with maximum sustained winds of 85 mph.
No hurricane watches or warnings in effect at this time, but they will likely be issued for parts of the Bahamas and Florida in the next day or two.
Below is the latest on Dorian's timing and what we know about potential forecast impacts right now.
Dorian's Forecast Timing
Through Friday: Dorian's center is expected to track to the east and north of the Turks and Caicos and the southeastern Bahamas.
Saturday: Dorian will bend toward the west-northwest and potentially begin to impact the northwest Bahamas, particularly by late in the day.
Sunday-Monday: Dorian will begin to approach and impact the Southeast U.S., most likely Florida. Exactly when and how sharp its leftward bend occurs will be critical in determining the exact location and timing of Dorian's strike on the east coast of Florida or elsewhere in the southeastern U.S.
Forecast Impacts
Uncertainty continues to be high when it comes to exact forecast impacts in the southeastern U.S. and the northwest Bahamas
Among the myriad track possibilities are a track farther north toward the southeastern Georgia coast or one slicing across the Florida Peninsula, then emerging into the Gulf of Mexico and potentially threatening parts of the northern Gulf Coast next week.
Regardless of its exact track, Dorian is likely to be a dangerous hurricane, potentially a strong Category 3, when it approaches the U.S. later this weekend.
Furthermore, it is increasingly likely Dorian will both intensify and grow in size as it moves toward the southeastern U.S.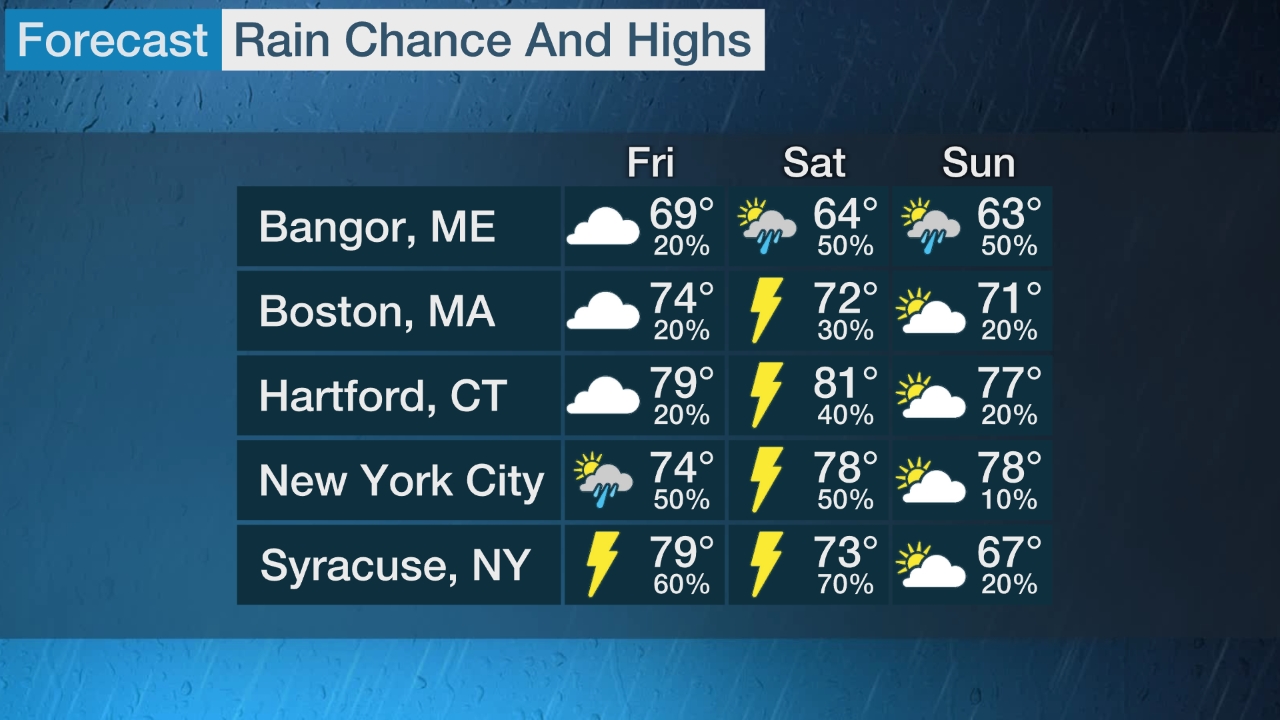 It's too early to know the exact magnitude and location of any impacts from damaging winds, storm surge or flooding rainfall at this time.
All interests in the Bahamas, the northern Gulf Coast, Florida and the Southeast coast should have their hurricane plans ready and monitor the forecast of Dorian closely.
(MAS: Dorian en Español)
Coastal sections of the Southeast could see at least 4 to 8 inches (locally 12 inches) of rain, according to the National Hurricane Center.
Damaging winds and storm surge flooding will likely impact the east coast of Florida or some other part of the Southeast next week, but it's too early to nail down where the worst impacts will be.