Every sandwich tells a story, don't it?
Everyone has a favorite sandwich, often prepared to an exacting degree of specification: Turkey or ham? Grilled or toasted? Mayo or mustard? White or whole wheat?
We reached out to five food historians and asked them to tell the story of a sandwich of their choosing. The responses included staples like peanut butter and jelly, as well as regional fare like New England's chow mein sandwich.
Together, they show how the sandwiches we eat (or used to eat) do more than fill us up during our lunch breaks. In their stories are themes of immigration and globalization, of class and gender, and of resourcefulness and creativity.
It's a five-part series entitled "Every sandwich tells a story, don't it?"
---
Part Two: East meets West in Fall River, Massachusetts
By Imogene Lim, Vancouver Island University, and first published in theconversation.com
"Gonna get a big dish of beef chow mein," Warren Zevon sings in his 1978 hit "Werewolves of London," a nod to the popular Chinese stir-fried noodle dish.
During that same decade, Alika and the Happy Samoans, the house band for a Chinese restaurant in Fall River, Massachusetts, also paid tribute to chow mein with a song titled "Chow Mein Sandwich."
Chow mein in a sandwich? Is that a real thing?
I was first introduced to the chow mein sandwich while completing my doctorate at Brown University. Even as the child of a Chinatown restaurateur from Vancouver, I viewed the sandwich as something of a mystery. It led to a post-doctoral fellowship and a paper about Chinese entrepreneurship in New England.
The chow mein sandwich is the quintessential "East meets West" food, and it's largely associated with New England's Chinese restaurants – specifically, those of Fall River, a city crowded with textile mills near the Rhode Island border.
The sandwich became popular in the 1920s because it was filling and cheap: Workers munched on them in factory canteens, while their kids ate them for lunch in the parish schools, especially on meatless Fridays. It would go on to be available at some "five and dime" lunch counters, like Kresge's and Woolworth – and even at Nathan's in Coney Island.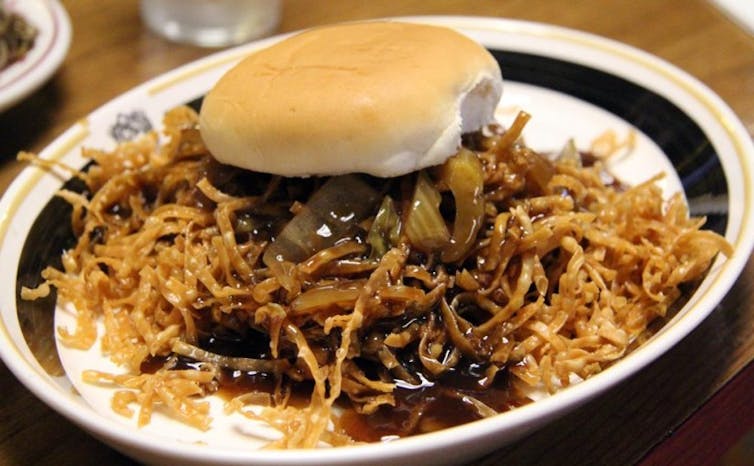 It's exactly what it sounds like: a sandwich filled with chow mein (deep-fried, flat noodles, topped with a ladle of brown gravy, onions, celery and bean sprouts). If you want to make your own authentic sandwich at home, I recommend using Hoo Mee Chow Mein Mix, which is still made in Fall River. It can be served in a bun (à la sloppy joe) or between sliced white bread, much like a hot turkey sandwich with gravy. The classic meal includes the sandwich, french fries and orange soda.
For those who grew up in the Fall River area, the chow mein sandwich is a reminder of home. Just ask famous chef (and Fall River native) Emeril Legassé, who came up with his own "Fall River chow mein" recipe.
And at one time, Fall River expats living in Los Angeles would hold a "Fall River Day."
On the menu? Chow mein sandwiches, of course.
---
Imogene L. Lim is an ethnoarchaeologist by training in VIU's Department of Anthropology. Research interests include: foraging societies, rock art, ethnicity, the Chinese diaspora in North America (archaeology & ethnohistory), and the anthropology of food. As of August 2017, Dr. Lim has a two-year appointment as a member of the Editorial Board of BC Studies.