Florida Tax Free Weekend was announced for August 2017. The Florida Sales Tax Holiday 2017 kicks off on Friday, August 4th, and will end Sunday August 6th. Here are six items you should buy during this period:
CLOTHING Up to $60 each. Florida legislators were a little more generous than years past. Garments and accessories are tax free up to $60 each. In 2013, the exemption stopped at $75 per piece.
SHOES Up to $60 per pair. Shoes are eligible for the tax exemption. As with clothing, however, only footwear costing less than $60 per pair will ring up tax-free.
SCHOOL SUPPLIES
Up to $15 each
Sales tax will not be charged on items such as pens, pencils, erasers, rulers, and glue. The state set a price limit of $15 per item for this category, but left off items such as staplers and computer paper.
For more details, go here.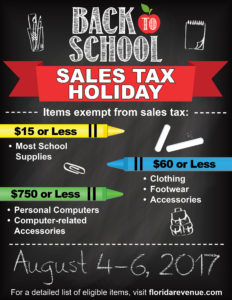 BUYING BOOKS
All books, besides the Bible, are still taxable during the Florida Sales Tax Holiday 2016.
MOST STORES
But not all
Lawmakers love tourists, but they did not want to give visitors a tax break. So, sales tax will still apply to purchases made in theme parks, entertainment complexes, hotels, and airports.
INTERNET ORDERS
To your door
Sales tax should not be charged on eligible items that are ordered online — even if those items are delivered after the sales tax holiday ends. See Walmart Sales Tax Holiday for general online tax free policies.
---